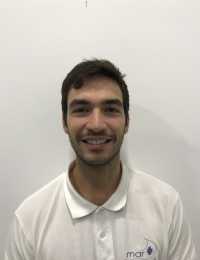 Javier Valenzuela Gonzalez is a Malagueñan and lives in the coastal town of Torre del Mar. He is a Graduate in Physiotherapy from the University of Seville and a member of the Distinguished Andalusian School of Physiotherapists, licence number 6138. In addition, he has experience in the application of neuromuscular bandaging (kinesiotaping), which he has gained through several specialist courses.
In his free time he is very keen on sport, especially tennis. A love of the sport which started at a very young age, and in which he trained at a professional level since childhood. At age 15 he entered the Cornella High Performance International Tennis Centre in Barcelona. He stayed there until the age of 19. This experience did not only help to improve his sport, but also his personal growth, and thanks to his time at this centre and living with other athletes of different nationalities, he became fluent in English.
After several years competing at a high level, he decided to return to Andalusia. This time he moved to Seville, where he resided during the 4 years of his studies which led to the title of Graduate in Physiotherapy, a profession that he has been associated with due to his sporting experience.
At an academic level, Javier is currently taking courses on "The physiotherapy approach to pain and soft tissue" (University of Seville) and "Orthopaedic Manual Physical Therapy" (OMPT training – Andalusian School of Physiotherapists) .
On a professional level, Javier devotes himself to his two great passions: he is a physiotherapist at the Centro Mar y Salud, and a private tennis coach.
He speaks Spanish and English.