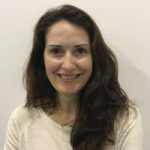 Jaqueline Gijón – Recepcionist and yoga teacher
Although holding the Spanish nationality, Jacqueline was born in Holland and lived there for
31 years before going back to Spain in 2001 together with her husband.
Jacqueline speaks Spanish, Dutch, English and German and, since 2015, works in our centre as a receptionist.
In 2016 she got her title of Hatha yoga teacher after which she started to give classes in our
center and in a private setting. The type of yoga she teaches is the Hatha yoga, which focuses on the physical, emotional, mental
and spiritual levels. It is accessible for everybody and helps to reduce stress, improves
blood circulation, brings balance between body and mind and gives energy and inner peace.
Most of all, Hatha yoga is a fun thing to do!
The classes are on Tuesdays from 17.15-18.30. If you want to come please bring a yoga mat.
In her free time she loves walking, traveling, cooking and swimming.